Wolf CVA Muzzleloader Overview
The CVA Wolf Muzzleloading Rifle (Wolf CVA Muzzleloader) has redesigned with features typically found only on more expensive muzzleloaders. It features an ambidextrous composite stock, fiber optic sights, an aluminum ram rod and a quick release breech plug that can be remov without tools even after firing your rifle numerous times. The CVA Wolf comes drilled and tapped for scope mounts and is covered by CVA's Lifetime Warranty.
Lightweight and easy to move around in cover and blinds, the redesigned Wolf is a great choice for young hunters, small-framed adults and hunters who pursue game in heavy cover. CVA's quick-release breech plug (QRBP) is the only truly tool-free-removal plug that comes out with a twist of your fingers, even after more than 20 shots. Includes DuraSight one-piece scope mount. .50 caliber.
Note: Scope mount models include  1″ DuraSight DEAD-ON One-Piece Scope Mount
Features
Bullet Guiding Muzzle
Ambidextrous stock
QRBP – Quick Release Breech Plug
Reversible hammer spur
CrushZone recoil pad
14″ length of pull
Lifetime Factory Warranty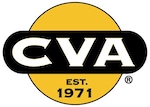 Specifications and Features:
Caliber: .50
Barrel: 24″
Overall length: 48″
Weight: 6.25 lbs