Underwood Xtreme Defender 9mm, While taking advantage of state of the art testing equipment, this high performance ammunition by Underwood (Underwood Xtreme Defender 9mm) field tested using popular, real firearms that customers are most likely to own out in the real world with all the elements you would experience. This ammunition is new production, non-corrosive, in boxer primed, reloadable nickel plated brass cases.
The Xtreme Defender is based on the popular Xtreme Penetrator product line.; no other expanding hollowpoint comes close to achieving anywhere near this diameter and volume.
The Underwood nickel plating process provides several key benefits including; improved feeding in all actions of firearms, enhanced corrosion resistance over traditional brass, improved cosmetics, and ease of cleanup during reloading.
Features
Reduced recoil.
CNC machined from solid copper to overcome barriers to penetration
Radial flutes that force the hydraulic energy inward to build pressure
Minimal surface area to increase the force at the point of contact and sharp cutting edges that defeat barriers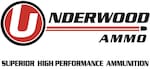 Made In United States of America