Christensen Arms Ridgeline For Sale
An Advanced 6.5mm (Christensen Arms Ridgeline For Sale) PRC Long Range Bolt Action Rifle from Christensen Arms.
Utilizing the most advanced aerospace materials, with state-of-the-art manufacturing process and over 20 years of firearms manufacturing experience, Christensen Arms is an industry leading high performance firearms manufacturer. Christensen's cutting-edge engineering and impeccable quality control produce some of the most lightweight and accurate precision firearms in the world.
The Christensen Arms Mesa Long Range designed for dedicated precision shooters and long range hunters. The sturdy and ergonomic platform relies on a medium palma contour steel barrel paired with an adjustable carbon fiber composite gunstock and features a seamless removable side-baffle muzzle brake. The Mesa Long Range weighs in starting at 8.9 pounds and backed by the Christensen Arms Sub-MOA Guarantee.
Features
Barrel with a medium Palma Contour
Stainless Steel Seamless Side-Baffle Brake
STD Rem 700 Optics Base Compatible
Skeletonized Bolt Handle
Trigger Tech Trigger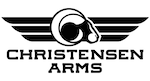 Made In United States of America
Christensen Arms ELR Specifications and Features:
Christensen Item Number: 801-07001-00
Bolt Action Rifle
6.5mm Precision Rifle Cartridge
26″ Carbon Fiber Wrapped Stainless Steel Barrel with a 1:8 Twist
Threaded Muzzle 5/8×24 TPI with Titanium Side Baffle Muzzle Brake
Hand Lapped Free Floating Barrel with a Match Grade Chamber
Christensen Arms 416 Stainless Steel Billet Receiver
Integral 20 MOA Picatinny Rail
Billet Aluminum Bottom Metal
Hinged Floor Plate Magazine
Match Grade Trigger
Nitride Treated Twin Lug Spiral Fluted Bolt
Oversized Fluted Bolt Knob
M16 Style Extractor
Modified Beavertail Forearm
Christensen Arms Carbon Fiber Composite ELR Hunting Stock
Tactical Styled Grip with Limbsaver Recoil Pad
Black with Gray Webbing Stock Finish
Invar Pillars with Spot Bedding
Adjustable Comb Spacers
Adjustable Length of Pull Spacers
Stainless Receiver with Carbon Fiber Barrel Finish
Weight: 8.4 lbs